THESES PAGES HAVE BEEN TRANSLATED WITH AN AUTOMATIC TRANSLATOR. "HUMAN" TRANSLATION WILL BE SOON APPLIED !
Accessibility
consulting
"The power of the web is in its universality. Access by everyone regardless of disability is an essential aspect." (Tim Berners-Lee, W3C's director).
You want to know if your website is accessible to everybody or, on the contrary, inaccessible to certain people cartegories.
Consulting
In order to realize my accessibility consulting, I will analyze different points of your website's pages regarding to WCAG 1.0 recommandations (Web Content Accessibility Guidelines). Then many points will be analyzed such as :
Content
Forms
Internationalization (call signs, country is indicated in all postal addresses...)
Javascript and ECMA Script codes
Links
Navigation
Plugins
Typography (choix et taille des polices...)
etc.
All theses points will permit me to give you an accurate report on your website's accessibility level and will help you to take actions about it.
Other services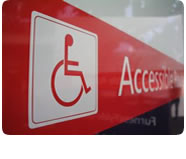 CD-ROM
Photo retouching
Referencing
Skin or template creation
Web accessibility
Web design
Website creation
XHTML CSS integration
---