THESES PAGES HAVE BEEN TRANSLATED WITH AN AUTOMATIC TRANSLATOR. "HUMAN" TRANSLATION WILL BE SOON APPLIED !
Services :
XHTML / CSS Integration
Integration is an operation which consists to transform a layout created under Photoshop, Illustrator, Fireworks or another graphical software, to a W3C compliant XHTML (4.0) / CSS web page. Thanks to this, I create an interactive and fonctional web page pattern.
Integration is an essential task between web design creation and web development. As a XHTML / CSS integrator, i'm a sort of "link" between web designer and development staff.
HTML / CSS integration process

In order to create your website pattern, I take your layout to determine different elements suchs as background colors, menus, illustrations, photos, icons, etc. Every element will help me to transform a simple layout in a web page.
Once the integration is made, result must be layout alike's. However the web media, particularly XHTML / CSS web pages can create severam restrictions notably on typography. (Every fonts aren't available on every operating systems ; then it creates some display problems.)
Other services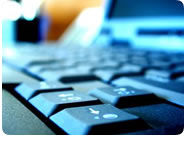 ---